Nursery
This term the Nursery children have certainly demonstrated many of the characteristics of effective learning, in particular active learning and playing and exploring, through a variety of experiences, both adult and child led.
They have especially enjoyed a range of traditional stories. The children role played The Enormous Turnip using masks and drew their own versions, pulling up a different root vegetable out of the ground. The story was brought alive by retelling it through movement in PE. They also made their own props using junk and various materials for the story of Goldilocks and The Three Bears. Finally, The Gingerbread Man was a big hit with the children, making their own gingerbread person.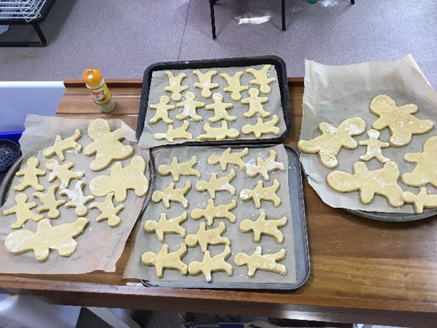 Science week enabled us to make exploding volcanoes in egg shells and complete a gummy bear investigation. We also had fun exploring different forces and realized how many pushes, pulls and twists we do all the time. They had the best time pushing and pulling their friends along in a wooden cart, across the classroom.
There has been some creative art work, explored by colour mixing, to make light and dark shades. The children studied a picture by Katsushika called 'The Wave' and recreated their own versions.
In phonics, we have introduced the sound box and many of the children have brought in objects beginning with the sound/letter of the week.
Finally, the children were introduced to two more positive mind animals – the Creative Chameleon and the Resilient Tortoise.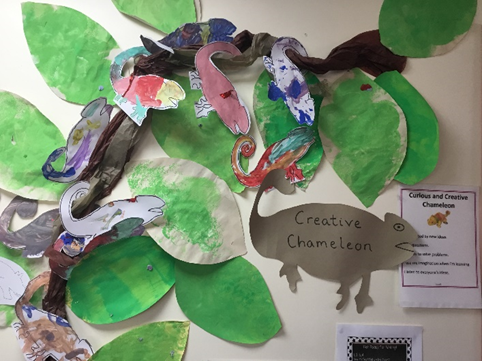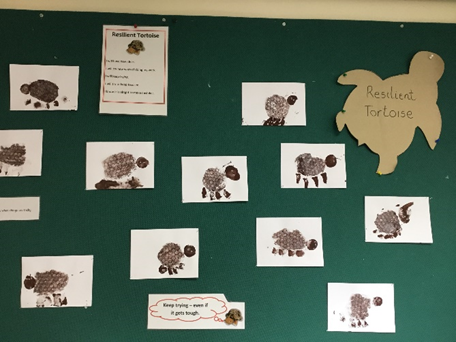 Mrs Vaile reading Kipper's Toybox